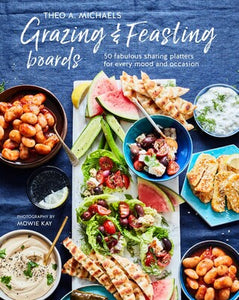 Grazing & Feasting Boards
Impress and excite family and friends with 50 bold ideas for beautifully presented sharers from MasterChef UK's Theo Michaels, including cheese, charcuterie, and beyond.

In this exciting follow up to SHARE, Theo Michaels' new book provides everything you could possibly need to delight a crowd with beautiful boards and platters. Designed for effortless entertaining, this book contains the perfect combination of how-to instructions, shopping lists, and recipes to create sharers for unforgettable snacks, meals and social events. The cheese board is often the most anticipated delight of any festivity, and here the concept is taken to the next level, with recipes to suit all tastes and occasions. These beautiful boards are both aesthetically pleasing and easy to put together; picture an "Indian Thali Board", with chutneys, curries, and sundries on a banana leaf, or "Summer Garden" treats of crudités, dips, and edible flowers brightening up any outdoor get-together. Casually entertain in style with recipes from Movie Night Boards to Bagel Boards, plus classic boards for cheeses "Wine Bites". Chapters include Brunch Boards, Everyday "Big Night In" Boards, Globetrotting Boards, Seasonal Celebrations and Sweet Treats Boards. Whimsical, tasty and visually enticing, these stunning centrepieces will ensure that you are the life of any party!