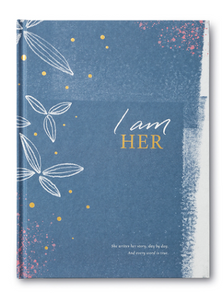 I AM HER. SHE WRITES HER STORY, DAY BY DAY. AND EVERY WORD IS TRUE.
Filled with inspiring quotes, poetic statements, and meaningful prompts, I Am Her is here to encourage an inspiring woman to embrace the beauty within, to listen to her most heartfelt wishes, and to share her dreams with the world.
A special gift to honour the strength of a woman in your life — a sister, aunt, mother, or friend.
Hardcover with foil stamping and gilded edges
7.75"W x 10.375"H
80 pages